Westcoast Diver Mallorca
Diving Center
Hotel Palace Bonanza Playa & Spa
Paseo de Illetas s/n
07181 Illetas
Mallorca

Center: 0034 / 971815969
Mobil: 0034 / 664592946
Marc: 0034 / 696789037
info@divinginmallorca.com
| | | |
| --- | --- | --- |
| | +34 664592946 | |
Mailing Office
Marc Stöneberg
C./ Donants de Sang 11 1a
07609 Llucmajor
Mallorca
Spanien
Marc: 0034 / 696789037
info@divinginmallorca.com
Opening Hours
02/04/2022 - 30/10/2022
Daily 9:30 am - 5:00 pm
Outside these times the diving is only possible on request.

Please email to info@divinginmallorca.com or use the formmailer.
Hotel Palace Bonanza Playa & Spa
The dive center is located on the ground floor of the hotel. Exit the motorway at the Illetas Bendinat exit. Leave the first roundabout in the direction of Palma (the last possibility at the roundabout) and you are now on the Carretera de Palma Andratx Ma-1C. Follow this street until the first traffic light. Here you turn right into Passeig de Illetas. After about 500 meters you will see the hotel on your left.

| | |
| --- | --- |
| | |
Pre-ordered dive packages / courses are valid only for the individual who booked them and can not be distributed amongst various individuals.

A booked diving course or package is binding only if 10% of the price has been pre-paid, or the course specific materials have been ordered. Without a binding booking there is no entitlement to a place on board.

Early discount is only given if the entire course fee or dive-package is pre-paid at least six weeks before the first dive.

Refunding of an advance payment or a pre-paid course or package can only be granted if the trip can not be taken (e.g. because of sickness or an accident etc.) or the booking is cancelled at least 2 weeks before the first dive. In all other cases a cancellation fee of 10% will be charged. The remaining sum will be transferred to your account within 4 weeks.

Course material that has already been sent to you can not be returned nor can the discount obtained by the purchase be refunded. In this case however there will be no further cancellation fee. The cancelled dive course can be taken under the same conditions after previous arrangement with West Coast Divers at a different time.

If a course cannot be completed on-site due to illness or because one cannot participate in certain dives, we will find individual solutions. The remainder will be calculated on-site and you will receive a refund or a coupon to reclaim our services at a different time.

Diving without a valid diving insurance in Spain is prohibited. If you do not have a diving insurance you can procure insurance through the dive center. Participants of the beginner's course or the trial dives are automatically insured through the center.

The presentation of a valid dive brevet / certificate is a prerequisite for the participation of dive-activities (excluding beginner's courses).

Every participant of dive-activities confirms his physical ability to dive and should be able to present a medical certificate not older than two years, to document this (if 40 years or older, then not older than 1 year).

We reserve the right to exclude divers who have deliberately acted grossly against the general safety rules of sport-diving from further participation of dive activities.

West Coast Divers aims to keep to the given excursion plan. Changes due to wind, weather and waves however are our out of our hands. Should excursions not take place and cannot be repeated you will be refunded.

West Coast Divers points out that we keep a database of our clients in which your data is stored. The data is used to provide certain services and to be able to contact our clients. At no time will this data be given to third parties.

CORONA


Mask requirement Spain: Masks must be worn in supermarkets, shops etc. Masks are therefore required within the diving center. Not outdoors and on the beach if a distance of 2 meters from non-group members is maintained. When organizing and planning dives and diving courses, WEST COAST DIVERS endeavors to look after family associations and travel communities in isolation from other diving guests. If this does not work, you should keep a distance of 2 meters from other guests to avoid wearing protective masks outdoors. The West Coast Divers team will help you comply with hygiene regulations, but do not provide protective masks.
.
West Coast Divers Mallorca



Marc Stöneberg
C./ Almirante Vierna 11 1a
07609 Llucmajor
Mallorca
España

Tax number
Spain
ES X 2003889 Z

Fon: +34 696789037
Mail: info@westcoastdivers.de
Internet: www.westcoastdivers.de

Design and Implementation:
Marc Stöneberg
www.mandographik.com
Legal Notice:
The information on this website is compiled with care and updated regularly. Nevertheless, West Coast Divers assumes no liability or guarantee for the topicality, correctness and completeness of the information.

Linking:
West Coast Divers can not accept any liability or guarantee for the contents of the websites to which we refer directly or indirectly. A visit to these websites is at your own risk.

Copyright:
West Coast Divers reserves all rights to the information provided on this website (text, images, graphics, trademarks, etc.). They are protected by copyright and other intellectual property laws. The reproduction, duplication or other distribution of the contents of our homepage require the prior written approval of West Coast Divers Mallorca

Privacy / Law / Cookies:
All data transmitted to us will be treated in accordance with the legal provisions applicable in Spain for the protection of personal data and will not be disclosed to third parties. If our service requires the disclosure of personal information, you will be informed in advance and your consent will be obtained.
In accordance with the provisions of article 5 of the Ley Orgánica 15/1999 on data protection and article 12 of RD 1720/2001, we inform you that the data you send us by email or by email will be in one file is the property of West Coast Divers Mallorca, with the registered office of Marc Stoeneberg, C / Almirante Vierna 11 1A, 07609 Bahia Grande, Balearic Islands, Spain, intended to provide the requested service, as well as with our guests To contact.
With this clause, you are aware and agree that we may send you promotional information via email to inform you about West Coast Divers Mallorca products and services that we believe will be of interest to you , If you do not agree to receive promotional information, please confirm this with the words "no advertising" in your email.
Affected parties may invoke the rights named in this law by contacting the above mentioned address in person or in writing or by email to info@westcoastdivers.de, indicating in the subject "Ejercicio Derechos LOPD" and kindly giving the full name.
Your data will be deleted immediately from our database.
West Coast Divers uses a form mailer from Foxyform to send emails. Foxyform uses its e-mail address only to operate the Foxyform service and will NOT share it with third parties. Emails sent via Foxyform will NOT be sent to third parties but only to the e-mail address set by West Coast Divers. Foxyform does not guarantee the reliability and accessibility of the service, but of course makes every effort to be 100% achievable. Further information under www.foxyform.com.
To optimize our website we collect and store data such as the date and time of the page view, the page from which you access our page and the like, provided that you do not object to this data collection and storage. This is done anonymously without personally identifying the user of the page. Possibly. User profiles are created using a pseudonym. Again, there is no connection between the person behind the pseudonym with the collected usage data.
For data collection and storage, we also use cookies. These also collect data only in anonymised or pseudonymised form. Cookies do not harm your computer and do not contain viruses. Cookies are used to make our offer more user-friendly, effective and secure. Cookies are small text files that are stored on your computer and stored by your browser.
Most of the cookies we use are so-called "session cookies". They are automatically deleted after your visit. Other cookies remain stored on your device until you delete them. These cookies allow us to recognize your browser on your next visit.
You can set your browser so that you are informed about the setting of cookies and cookies only in individual cases allow, the acceptance of cookies for certain cases or generally exclude and activate the automatic deletion of cookies when closing the browser. Disabling cookies may limit the functionality of this website.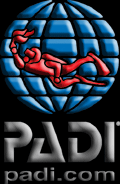 Get your PADI scuba certification. If you've always wanted to learn how to scuba dive, discover new adventures or simply see the wondrous world beneath the waves, this is where it starts


Have a look on our scuba diving time table and reserve your space right now
>> more